Hong Kong b+ab Lauches Hello Kitty 2013 Spring Summer Collections
Today is the launch date of Hong Kong fashion brand – b+ab X Hello Kitty 2013 Spring Summer Collections. I planed for a long time to join the launch party in I.T store (One Hysan Avenue, Causeway Bay) because you could take photos with Hello Kitty and receive secret free gifts. However when I arrived I found out I was misled by the time "3:00pm" written on the b+ab poster. The launch party was already over and all the free Hello Kitty balloons were gone. ⊙﹏⊙ The "3:00pm" mentioned on the poster actually was the time that they started to sell new collections. There were many other Hello Kitty fans arrived after me and disappointed by the "3:00pm". Luckily we still caught to be the first customers.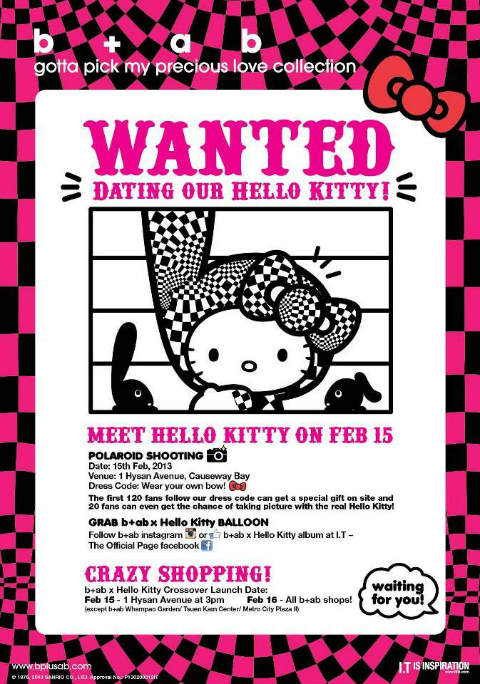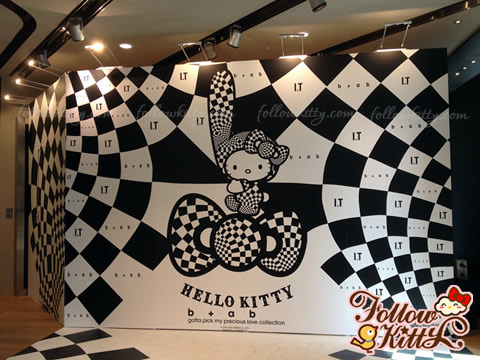 On the first floor of I.T, there was the huge b+ab X Hello Kitty board. It must be a very popular photo background one hour ago.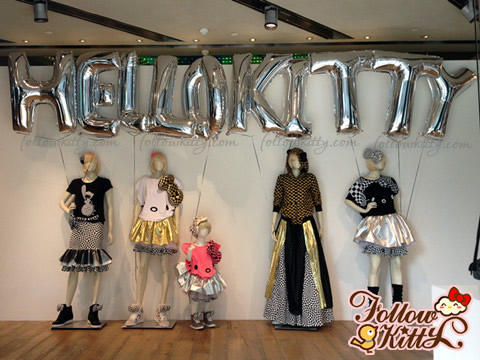 Lots of new collections were displayed on the first floor with the cute "Hello Kitty" balloons.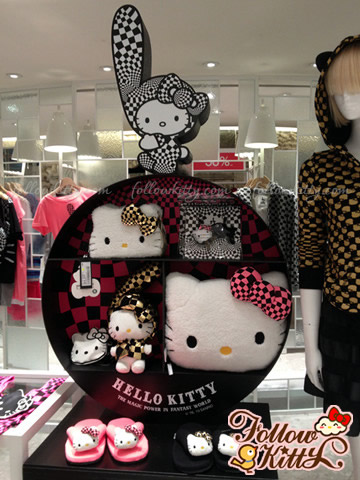 All the 2013 Spring Summer collections of b+ab x Hello Kitty 2013 were on the second floor. Oh, they are suuuuuper cute, aren't they?
Similar with the earlier ete! X Hello Kitty Platform Shoes, these b+ab X Hello Kitty shoes also used Hello Kitty's bow as decoration. Each pair costs HKD 899.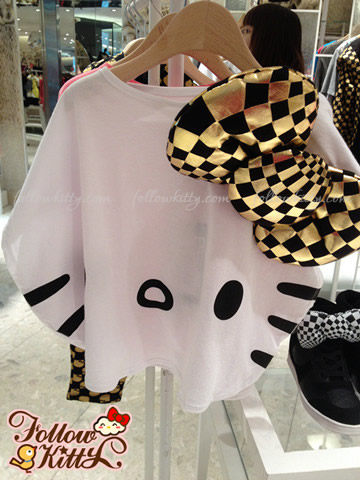 The highlight of this hoodie was on the hood which was designed with Hello Kitty's bow and two kitty's ears. Super kawaii and cool !
Besides all the above new collections, there were also T-Shirt for summer (mainly were in white, black or pink). Many clothes also prepare the sizes for kids.
Beside clothes, b+ab also offered many other products, such as this lovely Hello Kitty plush toy. This gold jacket was exchangeable and the price was HKD 349.