Hello Kitty and baby Mon cher Collaboration
Whoever collaborating with Sanrio will end with great success. Only along dessert and sweets, there has already been "Dazzling Café", "Hello Kitty Sweets", "Cloudy Cupcake" as well as "Mister Donut". Now, the Japanese brand "baby Mon cher" also collaborated with Sanrio.
Baby Mon cher opened the first store yesterday in Hong Kong. It is said that it is also the first overseas store of baby Mon cher. This Japanese sweets manufacturer is renowned for the celebrity-favorite cake "Dojima Roll", which was launched in 2003 and has been sold over 15 million pieces.
The new store was opened on the 24th of April in B2/F SOGO Causeway Bay. Once I heard that they also offer Hello Kitty crossover cakes, I couldn't wait to visit them this afternoon.
It's not really a store but more like a booth. A huge cake display counter displayed all the delicious cakes inside. On the right (middle layer) was the famous "Dojima Roll".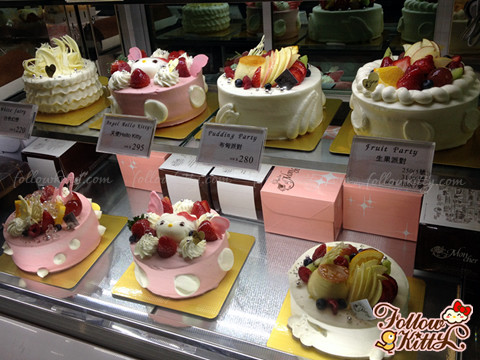 All the cakes were stored under 5 degree. Nothing can attract my attention except the Hello Kitty cakes! :P
This is a big ice cake (about 12cm in diameter, around HKD 250). It looks so kittilicious!
Besides, they also have two cute Hello Kitty mousse cakes "Mousse au Hello Kitty" and "Mousse au Hello Kitty Chocolate".
"Mousse au Hello Kitty" is "a smooth, milky mousse cake with a strawberry gelée inside". "Mousse au Hello Kitty Chocolate  is "a chocolate flavored Hello Kitty mousse cake with an orange gelée inside". It seems the milk-taste mousse is more popular than the chocolate taste. It was the last one left when I arrived.
There were still plenty of Chocolate Mousse au Hello Kitty left. All looked so cute and delicious ! As a huge fan of Hello Kitty, how can I leave without a goodie  n_n !!!
I bought the small chocolate mousse cake (HKD 48 per piece).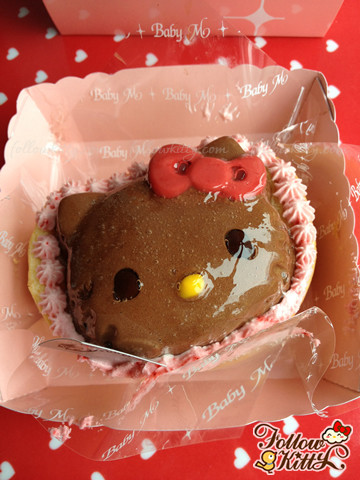 It is coated with a layer of sugar. The staff told me it would keep in good condition within 1-2 hours. However when I got home (within 1 hour) it  had already melted. The plastic around the cake was very sticky.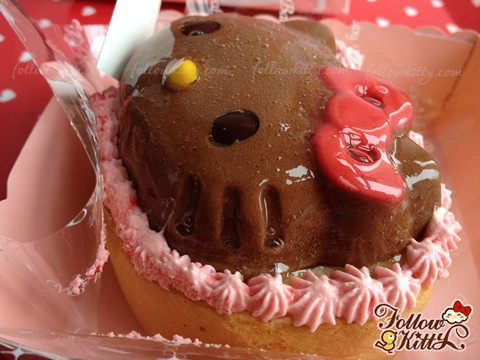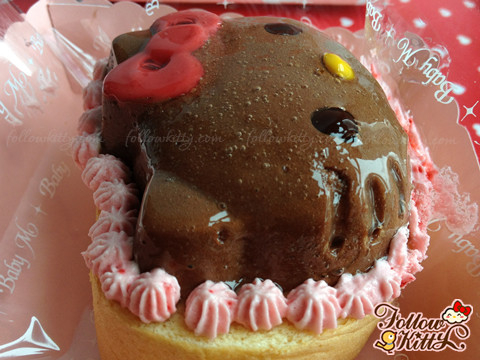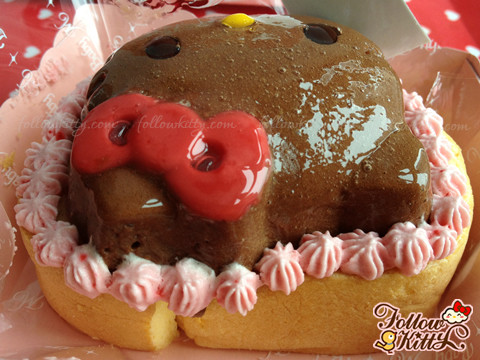 A cream cake was at the bottom and decorated with strawberry cream.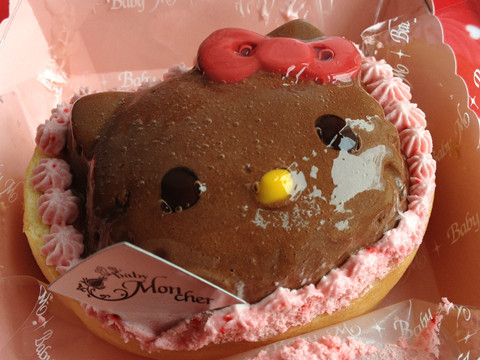 I haven't tried it yet. But I believe it should be very delicious.
Address of baby Mon cher:
Hong Kong SOGO store
B2/F SOGO Causeway Bay
Tel: 28332409
Business Hours:
Sun-Thu 10:00am-10:00pm
Fri, Sat and pre Holiday 10:00am-10:30pm