Eva Air Airbus A330-300 "Hello Kitty with Magic Stars" Aircraft Model
When it comes to Hello Kitty, I have to admit that Taiwan has many cute Hello Kitty products – no matter it's the cute Hello Kitty Sweets Café or Dazzling Café, or the special designed Hello Kitty Eva Airplane or departure gate C3 "Hello Kitty Dream World" at the Taoyuan International Airport in Taipei, I have to say Taiwan's Hello Kitty fans are much luckier.
Many of you probably know or have heard that the Taiwanese EVA Airline Company has five special designed and themed Hello Kitty planes (Hello Kitty with Magic Stars, Hello Kitty Loves Apples, Hello Kitty around the Worlds, Hello Kitty Happy Music and Hello Kitty Speed Puff). Interestingly, EVA Air managed to produce three of these five special designed and themed Hello Kitty planes as a collectable toy. The special designed and themed EVA Air Hello Kitty planes are very popular and it can be quite tough to get one original sealed one. Luckily, I managed to get my hand on one of the cute planes: the EVA Air Airbus A330-300 Hello Kitty Magic Stars model at a scale 1:500 from JC Wings.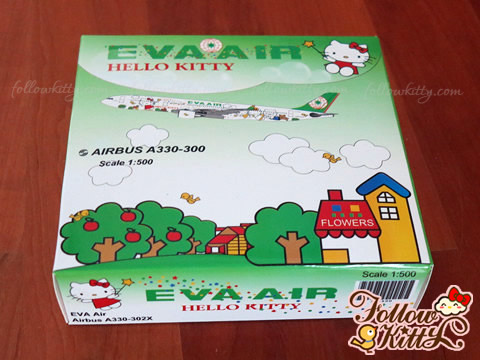 The packaging of the Hello Kitty EVA Air Airbus A330-300 is suuuuuper cute that you can find Hello Kitty and her friends everywhere. The model inside is printed on the front which is taking off and flying over the iconic Hello Kitty apple trees and houses.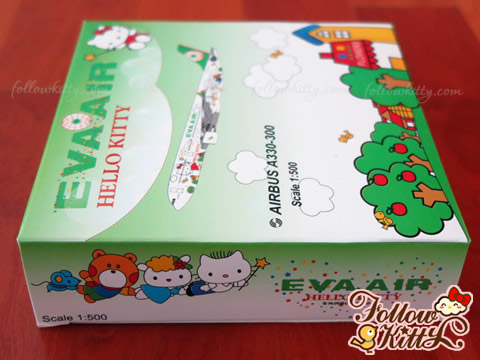 On one side of the box are Hello Kitty's friends Dear Daniel, Fiffy, Thomas and the cute little mouse Joey.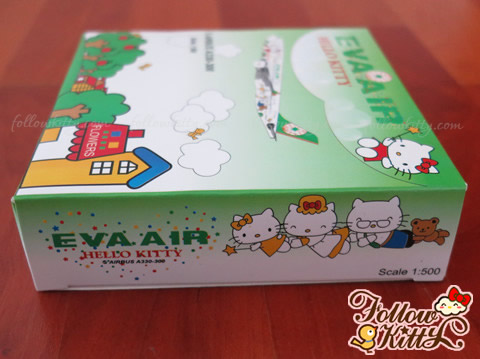 On another side of the box, you will discover Hello Kitty's sister Mimmy as well as her mom and dad.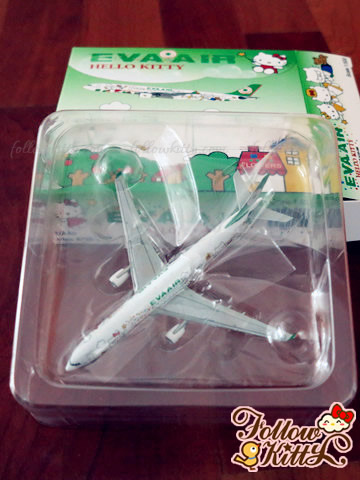 The beautiful designed Hello Kitty EVA Air Airbus A330-300 is carefully trapped between to protective plastic layers. Cannot wait to remove them…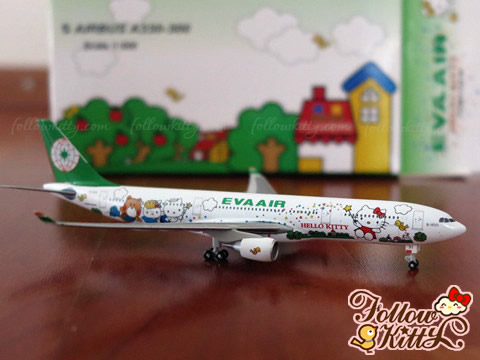 Voila, here is my lovely Hello Kitty plane model. Holding the Hello Kitty EVA Air Airbus A330-300 in hand, it's heavier than I thought. The body is made of metal with dedicated prints. It's really great that the complete plane is identical to the real plane of Eva Air.
Hello Kitty waves her magic wand and sprinkles shining Stars across the sky. Btw…did you notice the cute little bird on the plane's engine? Isn't he adorable? Love these little details a loooooooooot.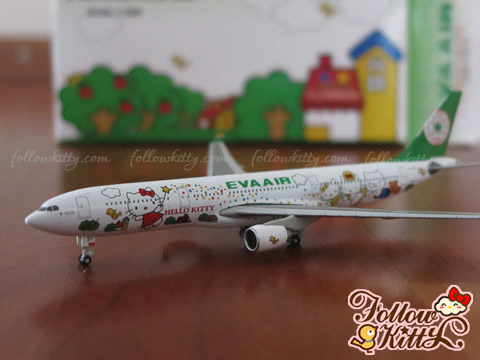 On the other side Hello Kitty and her beloved family fly together in celebration of love and friendship.
Compared with the real Hello Kitty with Magic Stars Airbus… I am amazed how accurate this little metal aircraft model is on details. The Hello Kitty head starts from the fifth window…exactly the same with the model…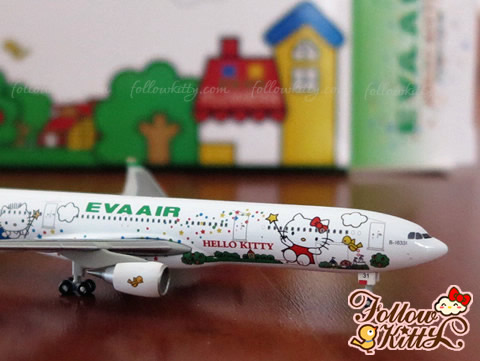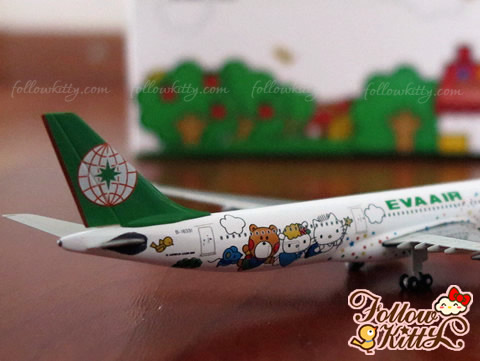 Let's take a closer look…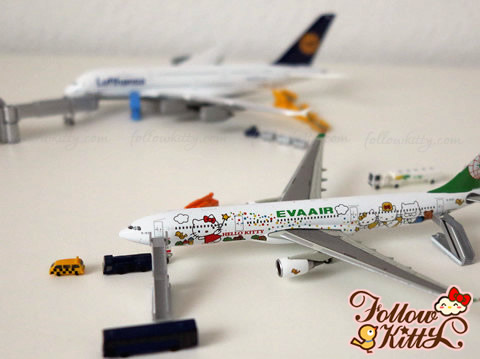 I combined the kawaii Hello Kitty with Magic Stars with my other plane model collections… Now the Eva Airbus is ready to take off…
The "Hello Kitty with Magic Stars" is the second generation of Hello Kitty Jet of Eva Air and launched in October 2011. For the moment, the Eva Air "Hello Kitty with Magic Stars" serves on flight routes between Taipei (Songshan) – Shanghai (Hongqiao) and Taipei (Songshan) – Tokyo (Haneda).
In order to promote Hello Kitty Jets, Taiwan Eva Air has cooperated with Hong Kong's transportation companies Hong Kong Tram as well as KMB and promoted Hello Kitty themed Tram and Hello Kitty themed Bus.