Unboxing My Hello Kitty Hello Party "Castle of Love" Display
Every year along the collectable figurine sets, Hong Kong 7-Eleven will also launch the special designed display. Last year's "Sweet Delight Dessert Tray" and "Sweet Delight Candy Box" were exclusively limited that they were sold out within a day around Hong Kong. Luckily I succeeded to get myself one.
For the Hello Kitty & Friends Hello Party Phase One, the display is a shinning castle "Castle of Love" which is made of transparent plastic with LED bulbs installed. With three batteries, it can light up in the dark (battery is not included in the box).
The box is much bigger than the box of Dessert Tray and Candy Box. Since the Hello Party set is designed to celebrate Hello Kitty's 40th Anniversary, the sweet couple Kitty and Daniel are printed on the box everywhere.
You can find the picture of Castle on the back of the box.
The "Castle of Love" is carefully packed inside.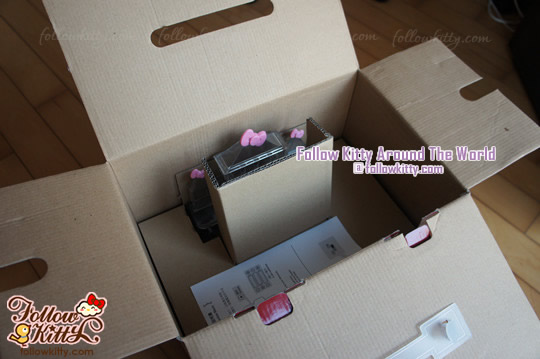 Viola, finally it's completely unpacked.
I didn't have batteries to test the LED lights but I can imagine how shinning it is in the dark.
The Kitty and Daniel logo is in the middle of the castle.
The LED bulbs are installed inside (see the red arrow).
It's a perfect display for the 12 figures of the Hello Party first phase. You can decide how you would like to arrange the figures.
I will of course put the Prince and Princess right in the middle.
If you would like to purchase it by post, a little reminder for you that the box with the shinning castle is much heavier than last year's Dessert Tray and Candy Box.