Dazzling Café x Hello Kitty Themed Restaurants in Taipei
Although Taipei is so close to Hong Kong, I hardly get any chances or time to visit around. Luckily this time's Dazzling Café x Hello Kitty themed restaurants in Taipei will last till March. I really shouldn't miss this chance!
I always envy the Hello Kitty fans in Taiwan so much that they are surrounded by Hello Kitty everywhere: Hello Kitty Flight (Eva Air), Hello Kitty themed airport, Hello Kitty themed hospital, Hello Kitty Sweets Café (Luckily I have been there, click the link for details), till now the Japanese Dessert Store "Dazzling Café" cooperated with Sanrio and launched Hello Kitty themed cafés. What else can you dream of?
From the 11th of January 2013, Hello Kitty officially entered the three stores of Dazzling Café in Taipei (Mint, Sunshine and Deluxe) and all the restaurants transformed to the Hello Kitty themed cafés overnight. Don't forget this activity lasts only two months (till the 11th of March 2013). Make sure to mark it down on your To-Do list before it's gone! n_n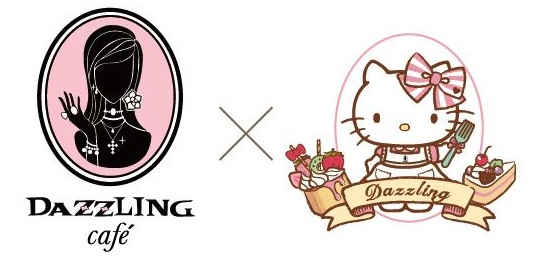 I almost screamed out once I took a look at this super cute logo!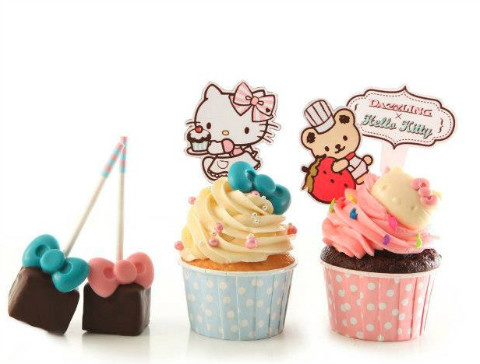 Signature Dessert: Lovely Chocolate Marshmallow Lollipops and Hello Kitty Cupcakes (two options: original and chocolate tastes). The prices are NT$ 60/piece and NT$ 390/4 pieces. It is soooooooo cute that how can I bite them?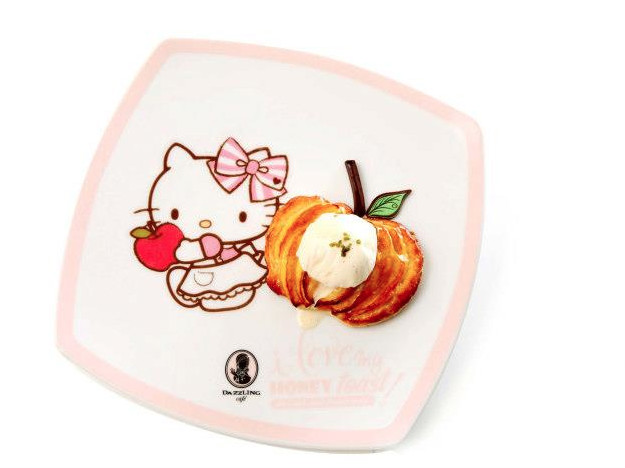 Visiting such a sweet café that you should definitely not forget the best after-dinner treat – ice cream. Doesn't this Hello Kitty apple pie plus vanilla ice cream look so kittilicious? Would you take a try?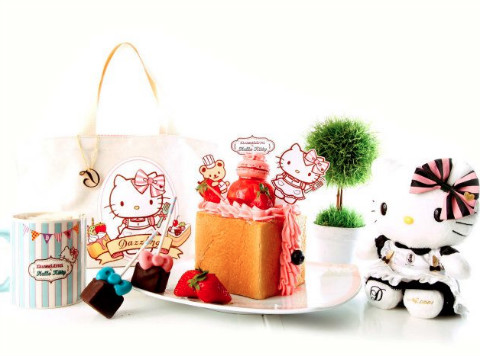 If you come here with your honey, you can try the Dazzling Café's special couple set "Hello Kitty Honey Toast Set for Two" including Strawberry Honey Toast, White Chocolate Strawberry Mocha and Cranberry Apple Tea. The price is TN$ 980 per set. A little bit expensive, but for the lovely Kitty, why not?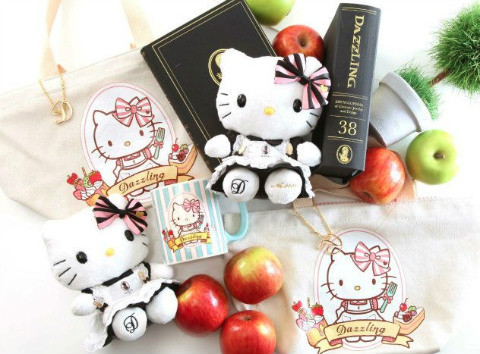 One of the best things about the themed café is their exclusive souvenirs that you cannot get anywhere else. Dazzling Café also prepared many limited editions of souvenirs: Limited Hello Kitty Plush Toy (NT$ 1180), Hello Kitty Mug (NT$ 450) and Lunch Bag (NT$ 350). You can find them in all the 6 Dazzling Café around Taiwan (Mint, Blueberry, Deluxe, Sky, Pink and Sunshine). The mug is my fave. I want it soooooo desperately. Dazzling Café, do you accept overseas online shopping?
For the moment there are 6 Dazzling Cafés in Taiwan and the three in Taipei (Mint, Sunshine and Deluxe) are turned into Dazzling Café x Hello Kitty themed cafés. From their official website it is said that every shop has different and exclusive souvenirs. OMG, -_-b, do I have to visit everyone?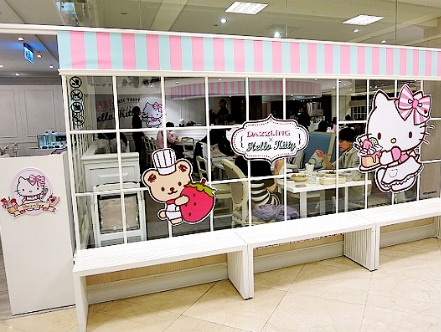 This is the Dazzling Café Deluxe in Breeze Center Shopping Mall (Taipei). The layout of the café has a completely new-look with smiling Kitty and sweet pinky decorations.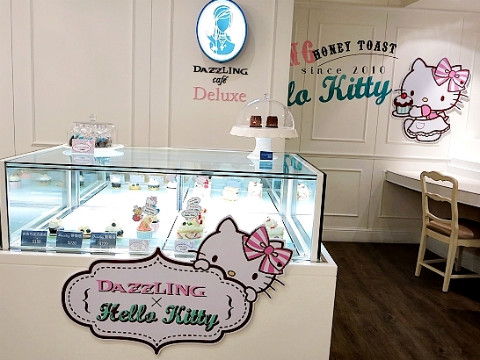 Inside everything is transformed to a Hello Kitty wonderland. Even if you are not keen on cupcakes, don't forget to stop by and take a look.
(Note: To the owner of the above two photos: if you think I offend your works by using the pictures, please contact me and I will immediately remove them. )
What's more, Dazzling Café will donate all the two-month turnover of Chocolate Marshmallow Lollipop to Taipei Stray Cats TNR Association. Why not come and support them? The famous Taiwan singer and pop star Jam Hsiao also has presented in Dazzling Café Mint to support this activity.
Here are the addresses and opening hours of the three Hello Kitty-themed Dazzling Cafés:
Address: No.39, Section 1, Fuxing South Rd, Songshan District Taipei
Opening Hour: Monday – Sunday: 11:00am – 9:30pm/10:00pm
Address: No.11, Songshou Rd, Sinyi District Taipei
Opening Hour: Monday – Sunday: 11:00am/12:00noon – 11:00pm/12:00pm
Address: No.3, Lane 248, Section 4, Xiaozhong East Rd, Daan District Taipei
Opening Hour: Monday – Sunday: 12:00noon – 11:00pm/12:00pm