Taiwan 7-Eleven Hello Kitty Fairy Tale Stampers and More
7-Eleven not only made the whole Hong Kong crazy for the limited Hello Kitty & Friends Sweet Delight (Dessert Set & Candy Set), but also successfully captured the hearts of all the Hello Kitty fans in Taiwan by the exclusive Hello Kitty Stampers Collection.
This time Hello Kitty chan transformed to many different fairy tale characters: the Snow White and the Bad Queen, the Little Red Riding Hood and the Big Bad Wolf, the cute Frog Prince and the princess, the Peter Pan and the Tinker Bell. Also there are lovely Chinese New Year Edition Kitty and the sweetest lover Dear Daniel and Hello Kitty for the Valentine's Day.
Similar to Hong Kong's 7-Eleven Hello Kitty Sweet Delight, you need to collect stamps/points upon purchasing in 7-Eleven. From the 6th of Feb till the 17th of Mar., you will receive one point upon purchase of NT$ 75 and one extra 1 point upon every NT$ 35 more purchase. e.g. 2 points for NT$ 110, 3 points for NT$ 145. Every 4 points plus NT$ 35 can redeem one stamper. All stampers are pre-packed and are given out randomly that you cannot choose.
Which one is your fave?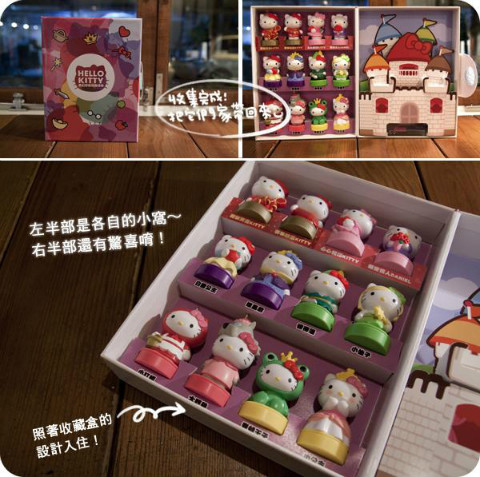 You can collect all the suuuuper cute stampers in the special designed box. You also can place your favorite stampers on the castle. Isn't it cool?
Besides the stampers, anyone who successfully collect all the 12 stampers can stamp the collect card and send back to 7-Elven team to win the exclusive Sanrio crystal bling-bling figurines.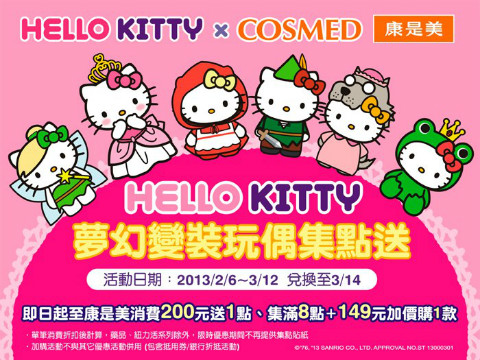 What's more, anyone who purchase from COSMED will have chance to redeem the lovely fairy tale plush toys. Rules: one point upon purchase of NT$ 200. Every 8 points plus NT$ 149 can redeem one fairy tale plush toy. The Little Red Riding Hood looks similar with the Hong Kong McDonald's Hello Kitty Fairy Tales.
7-Eleven had more to surprise the Kitty fans. From the 9th of Feb till the 14th of Feb, every NT$ 110 purchase would get one of the above 6 folders for free. I know the activity is over. I am still happy to take a look of them.
From the 6th of Feb till the 19th of Mar, Taiwan 7-Eleven also offers the limited Hello Kitty X tokidoki plush toys. NT$ 550 for one and NT$ 990 for a pair. Each one only issues limited 2000 pieces around the world.
All the pictures are from the Taiwan 7-Eleven Hello Kitty Stampers site. Although it's written in Chinese, you still can check out many other cute photos.